This is the long awaited New Braunfelds river trip page. The river trip takes place on Memorial Day Weekend in scenic New Braunfelds, Texas. We are to arrive in New Braunfelds Friday, May 26th. I will be your host at the river and hope this page answers all your questions. Generally the trip includes rafting, camping, sunning, funnin', and bar-b-qing.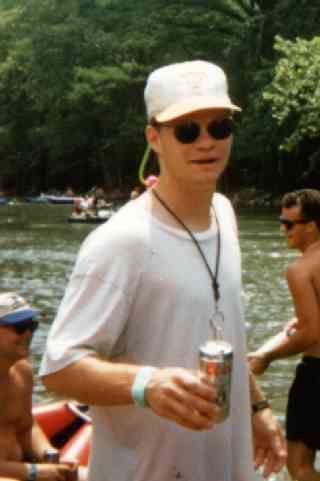 History:
The trip originally started in 1993. Two years later, I joined the trip and sorta took over all the arrangements. The original group is all but gone now with the exception of Mike Johnson. He is the one who originally invited me and a special thanks goes out to him. Special thanks also go out to your co-host Scott Cavin. Scott makes sure I stay on the ball and make all the reservations.
What to bring:
Tent
Cash money
Chairs
Sleeping bag
Swim wear
Camp cookery
Food and Beverages
Towels
Suntan lotion
Insect Repellant
Rules:
No children. I am sorry to have to say this, but the river is really no place for a child. Last year the river was very high and children could easily have drown. Besides, although we can control what goes on in our camp, we can't control other camps. The atmosphere at the river is laid back and adult like in nature.

No mooching. If you want to drink, bring drink. Same goes for food.. This has never been a problem and I don't want it to become one.

No glass on the river. In the past glass in the camp has not been a problem, however, officers will ticket you on the river.

No drinking before Noon on Sunday. We've seen the officers giving tickets for this as well.

Leave attitudes at home. The trip has been successful for years now without any mishaps or injuries.

No pouting. Do not ruin the day for others if your agenda is not being met. We vote in the morning on the day's activity. If it isn't what you want, enjoy the ride. Remember it is vacation. you will have fun.

Have fun!!!